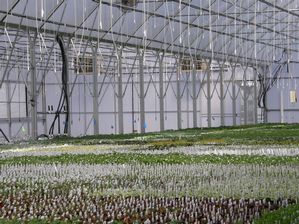 About F&B Farms
F&B Farms was started in 1997 by me (Fred) and my brother (Billy).  We started out growing field grown strawberries and field peas for canning.  We then started to diversify into the greenhouse industry by growing baskets and plants for our retail customers.  Since them we have grown both the farm and the nursery.
The Nursery is a new addition to the family business started by me and my brother in the late 90's.  We are proud of the fact that it has grown to be a significant contributor to our overall business.  We have changed the focus since the beginning and now strive to serve our wholesale customer base.  That base consists of independent retailers ranging from southern Oregon to Seattle Washington.  Along with this change has come the addition of our beautiful Brides Leigh and Heidi who both now serve pivotal roles in the management of the Nursery as well as the Farm.
As the nursery grew, we became aware that we needed people to help us achieve our goals.  In 2006 we added a customer service representative.  He helped us reach out, respond and relate to more customers as we grew. (We know that one should not allow farmers to do customer relations).  As this happened we also started moving some longer time employees into key roles.  Aniceto Martinez and Maria Saldana both moved into leadership roles with our seasonal crews and now Aniceto is an assistant grower/production manager.  In 2008 we had great opportunity to add Jon Venzke.  Jon brought a life time of growing experience along with production management skills.  He has been instrumental in moving us to a higher level in terms of professionalism and product quality. In 2010 we added a second customer service person, to help manage customer program sales, and assist with our Sustainability Initiative.  Regina Fischer came to us in the middle of 2010, she brings years of experience working with garden centers throughout the west and has greatly helped us serve our customers.
Want to know more?
On the farm we moved ahead by continuing the family farm started by our grandfather Fred Geschwill, our father Bill J. Geschwill and our uncle Henry Geschwill.  With the passing of our grandfather and retirement of our uncle we took over day to day operations in the early 2000's. We currently produce a wide variety of crops ranging from Hops for brewers across the world, to broccoli, beans and corn for a local processors, to grass and vegetable seeds that go to the local and world markets.  We strive to produce these products in a sustainable, modern way that serves the community and our global markets.
In writing this 'about us' I hoped to pass along the message that it is not about our greenhouses and machinery, but about the people who allowed us to start and who continue to allow us to achieve our goals.  Without our grandfather, father and uncle it would have been a much longer row to hoe for us to achieve our goals.  Also, without our current group of dedicated employees moving ahead would be impossible.
Fred