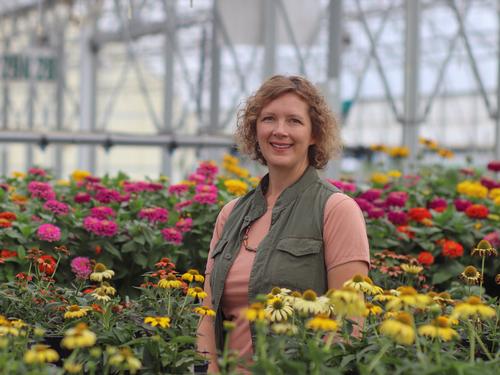 Leigh Geschwill
Owner / Sales Manager
Bachelors of Science in Housing Design from Oregon State University 1997
Diploma Lincoln High School (International Studies Program) Portland, OR
Leigh is a the person to contact if you want a customized plant program, have a major problem that needs resolved, or if you need something special.
At the nursery, Leigh is in charge of sales and customer service.  On the production side, she helps Jon with planning and forecasting what plants we are going to grow.  Each year she reviews and creates the combinations for the mixed baskets.  Leigh also manages Quality and Lean programs at the Nursery.
Leigh has a wide variety of interests.  She has been a lifelong gardener - a trait inherited from her Grandfather and parents.  She also enjoys cooking, baking, sewing & stitching, quilting, and reading.  However - she would rather weed than do dishes!  She also enjoys swimming, scuba diving and horseback riding.  Leigh uses her design degree to do house plans for remodels and new construction for local area people.
Her photo is of her dog Molly, who is half Mastiff, quarter Irish Wolfhound, quarter St. Bernard.  She's big and likes to give slobbery kisses.